Some of Bee's Faves

The Bee is something of a renaissance man; interested in a wide variety of themes, he wants you to know some of his favorites.
First and foremsot, there's HGTV. The Bee's record is 80 hours straight glued to the tube and staying current on the latest decorating tips. Linda Hindman, Carol Du Val and Kitty B. hold The Bee's attention whenever their images flicker through a cathode ray tube!



Next on this list are The Bee's beloved Teletubbies.Spouting forth inane gibberish and always creating a mess of some sort, we can see why The Bee favors these round bottomed creatures. He even force feeds them!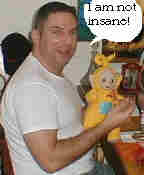 The Bee force feeds La La as he makes claims to mental health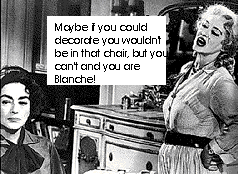 Why Doncha Ya Know Her? She's Our Own Baby Jane Hudson
Who can blame The Bee for his fascination with this creature!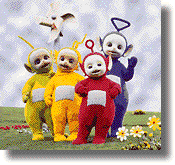 Got taken for a ride? Not The Bee! When he's not in his trusty Tacoma, rolling over the flatlands of Kansas, the Big Hair Anne Richardson Land of Texas, or the Scenic Hills of Central Florida, we can find The Bee riding the Dora Doodlebug!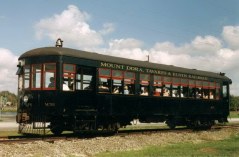 The Dora Doodlebug on the Mt. Dora, Tavares & Eustis Railroad
The Dora Doodlebug serves the beautiful town of Mt. Dora, Florida. Home to a great many antique shops and close to a bevy of flea markets, The Bee loves his down-time in down-town Mt. Dora.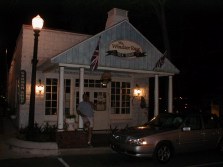 Here's The Bee enjoying a late night smoke outside one of Mt. Dora's ever-fashionable tea rooms.
And of course The Bee has an appetite and must keep food in the old Westinghouse back in Skylake. He also likes to buy cool stuff while at the flea market or junk shop. Because of these factors, The Bee has a job! Can you blame him?

And then there's The Bee's Buds! No names please, just FACES!